Registration 17. Push Hands Meeting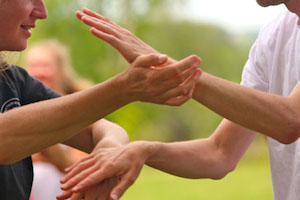 Whole Meeting (5 days): 300 Euros
Single Days: 60 Euros
Exception: Saturday 80 Euros (Gala, Party and Buffet included)
If you register and pay before the end of 2016 you will get a 10% early bird discount.
We ask for your understanding that in principle only full days can be booked. Half days can only be booked in connection with at least another full day.
Alternatively you can use this registration form: registration_2017
For questions concerning the meeting and/or the registration please visit http://en.push-hands.de
Conditions of participation
Since the forum capacity is limited, registrations will be handled in the order that they are received. In the event of cancellation up to six weeks before the start of the event an administrative fee of EUR 30 will be charged. After this point in time the event organizer will retain (or demand) the full sum, unless the participant provides a substitute participant. The signed registration form forms the only binding registration. Confirmations of registration will not be sent. Place of jurisdiction is Hannover. The official language of the event is English.
The Tai Chi Studio and/or other parties will produce a film and photographic documentation of the event. I am aware that film recordings will be made and photographs taken during the event and with my signature on the registration form I give my explicit permission that I may be filmed and photographed and that the producers may published and commercially exploit these imagerecordings. I thus grant the rights to my own image to the producers of the recordings at no charge.Due to the size of the event, changes in the program are possible.