Tai Chi Spear Handling with Torben Rif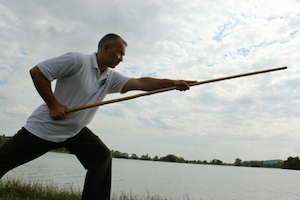 The Tai Chi spear form is the shortest of all tai chi routines; this being said it doesn't make it any less than other aspects of this ancient internal art. Probably one of the most basic tools of combat, easily created by with a good branch from a sturdy tree it was regularly applied by peasants and farmers a weapon of choice, being cheap and easily attainable.
Video "Tai Chi Spear Handling"
Here Torben Rif of Practical Tai Chi Chuan Denmark illustrates how to hold a tai chi spear. Over the course of this short, 1-minute clip he shows where to place the body, the hands, the feet and the focus and intention to achieve the best from your tai chi practice.
Author: Ronnie Robinson
Images: Ronnie Robinson