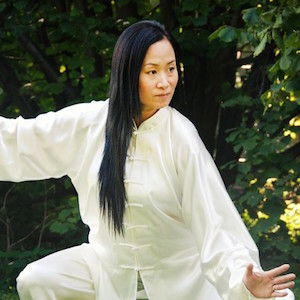 Since her childhood Yonghui Deistler-Yi has been fascinated by the Chinese martial arts. She made her first contact with them at school. Her focus is Taijiquan, but she also has knowledge in Fujian Bai He Quan (white crane style) and in Tanglangquan (Praying Mantis style) – the style of her hometown, Yantai. She learned from teachers as Lau Kung King, Yek Giong and Hao Cong. Since 2011 she has been close student of Master Wang Lian Yu. In the weapon arts her priorities are sword and fan. She learned Qigong with masters such as Li Zhi Zhang, Zhang Guangde, Li Xiaoqiu, …
From 83 -90 she studied at the Art School / School of Painting and Applied Arts in China. In Vienna, she graduated from the master class in oil painting with Prof. Hutter and Hundertwasser at Vienna (90-96). Since 1988 numerous publications in art magazines and periodic exhibitions in China and Austria. Teaching at the Liao Ning art school in China, and director of numerous courses in Vienna. Employment with new expression methods for traditional techniques of Chinese ink painting and calligraphy.
Currently Yonghui teaches Taijiquan, Qigong, weapons and traditional Chinese painting.
Theme: Chinese calligraphy – A way to care for life
Throughout China, traditional Chinese calligraphy is understood as a method of cultivation in the same way as Qigong and the traditional martial arts. You can actually find numerous examples of famous masters who combined these methods. Chinese calligraphy is a special way to preserve the tranquillity of the soul and to care for life. Against this background calligraphy unites Chinese philosophy, arts and meditation.
In this workshop we will learn to handle the so-called four treasures – paper, ink, stamp and brush. Beginning with the rudiments we will later work on more advanced techniques. Furthermore we will get to know Chinese writing and different interesting writing styles.
Author: Yonghui Deistler-Yi
Images: Yonghui Deistler-Yi and Taiji Forum