On these pages you will find the teachers and themes of the 2nd Taiji Forum Meeting. February 2017 the whole program will be online.
Within the next 2 weeks we publish more information on the teachers and themes via Continue reading →.
Follow us on Facebook, Twitter or subscribe our Newsletter to be up to date!
Jo Augustin, Ernst-Michael Beck, Ulla Blum, Yonghui Deistler-Yi, Tina Faulkner Elders, Gordon Faulkner, Henrik Jäger, Lau K King, Antoine Ly, Marianne Plouvier, Christoph Stumpe, Luigi Zanini.
Summary Teachers and Themes Taiji Forum 2017
Jo Augustin – Taijiquan – Xingyi – Bagua – Xingyiquan
Jo Augustin (Dao Name: Zhou Xing Dao): 1987 – 2006 Chan Shaolin Si / Since 1990 Taijiquan and Qigong / 1996-2000 Education in Yi Qi Gong by Master Zhi Chang Li and Roland Neumann…
Themes:
Relaxing and Releasing with Fangsonggong
Restoration of the harmonies: "Move like the waves and go with the flow"
Move like the waves and go with the flow – Part 2
Ernst-Michael Beck – Qigong/TCM
I was born in 1953 and I am originally from the Saar region. For 20 years now I am a resident general practitioner specialized in methods of natural healing, acupuncture and homoeopathy in Hannover (Germany). During my specialist training as a doctor for natural healing methods, I learned both autogenic training and the technique of hypnosis…
Themes:
Patient-centered Exercises for common ailments
The breath of the dragon
Meditation – The 3rd pillar of Yangsheng
Ulla Blum Qigong – Qigong/TCM
Ulla Blum, own practice since 1986 – Acupuncture, Qigong and body-psychotherapy (TCM)
: After two years of traveling around the world as a member of the Theater of All Possibilities and comprehensive studies on non-linear thinking, a training as a naturopath and in core-energetics according to J. and E. Pierrakos…
Themes:
Cultivate the Eight Extraordinary Vessels (Qi Jing Ba Mai) with the Eight Pieces of Brocade (Ba Duan Jin)
San Bao: the three Treasures Jing, Qi, and Shen – Dantian theory and it´s perception in Qigong
Yonghui Deistler-Yi – Calligraphy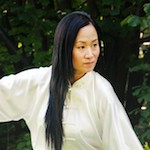 Since her childhood Yonghui Deistler-Yi has been fascinated by the Chinese martial arts. She made her first contact with them at school. Her focus is Taijiquan, but she also has knowledge in Fujian Bai He Quan (white crane style) and in Tanglangquan (Praying Mantis style) – the style of her hometown, Yantai …
Theme:
Chinese calligraphy – A way to care for life
Gordon Faulkner – Qigong/TCM
Gordon Faulkner is the Director and Principal Instructor of the Chanquanshu School of Daoist Arts, a school that teaches Yangsheng (nourishing the vital principle) practices that cover martial, medical and meditational arts …
Themes:
The TCM Fuzang Amno (internal organ massage) techniques for removing congestion and stagnation in the lower abdomen. This work is particularly valuable for opening the lower dantian and allowing greater flow of energy from the centre.
A routine from the Daoyin Yangsheng Gong system for dealing with stress. There are two stress routines, Weiji Yufang Gong for stress prevention (yin form) and Weiji Xiaochu Gong for stress relief (yang form). These routines are now used in several Cancer Care Centres in the UK. The Weiji Yufang Gong is the physically easier one to do.
Tina Faulkner Elders – Qigong
Tina Faulkner Elders began training as a young child in Gong Fu and Chin Na with her father, Gordon Faulkner. At twenty she moved to Beijing to study Daoyin Yangsheng Gong at the Beijing Sports University, graduating in 1996….
Theme:
Henrik Jäger – I Ching
Henrik Jäger was born in Hameln/Weser and is operating in the area round Trier and Cologne today. From 1981 to 1984, he completed a professional training in I Ching Counselling with Hildegard Laudi at the Dürckheim Centre in Rütte (Grafschaft Dürckheim). Subsequently, he studied sinology, japanology and philosophy…
Theme:
The I Ching in theory and practice
Workshop 1: Introduction to the I Ching
Workshop 2: The deeper meaning 1
Workshop 3: The deeper meaning 2
Lau K King – Qigong/Taijiquan
From 1977 on James Lau K King was Master Huang's close disciple until his death and he also enjoyed his special 3 trust. He works as a journalist and chief editor of the China's largest daily newspaper in Malaysia and is Secretary- General of World federation of Fuzhou Associations …
Themes:
A. Wudang Qigong (武当氣功) To cultivate inner peace and and harmony.
B. Five elements steps (五行步)To strengthen leg work foundation and movement.
C. Huo Tui (和推) Partners work to synchronise the different body and mind movement, basic self defence techniques by using the Taichi's 8 energies.
Marianne Plouvier – Qigong
Marianne Plouvier has begun her practice of Yangjialaojia in 1990. She has been a teacher at different international Taijiquan meetings, amongst others in Italy, Scotland and Bulgaria. Marianne is author of…
Themes:
Dynamic Qigong (Brocades)
Tui Shou
Antoine Ly – Qigong
Antoine Ly has begun practising Yangjialaojia Taiji Martial Arts (the traditional frame of Yang family Taijiquan) in 1972. Since 1977 he has taught in France. Antoine holds the 8th Duan in …
Theme:
The Game of the five animals
Tuishou
Christoph Stumpe – Tuina/Qigong
Christoph Stumpe is a graduate sports scientist and director of the Shen Men Institute. He has taught Tai Ji, Qi Gong, Meditation and Chinese Massage for more than 20 years.
His training includes stages with different masters and teachers in Germany, Switzerland and the USA as well as at the WHO Collaborating Centre for Traditional Medicine in Beijing, China…
Themes:
Tuina against neck and shoulder pain – Workshop with numerous practical applications
"Yuan Shen – What you really are "
Healing from the heart – Workshop with exercises of Yuan Shen Gong (Heart Qigong)
Luigi Zanini – Bagua (Zhang)/Qigong
Luigi Zanini is studying internal and external Martial Arts since almost 40 years, and is still involved in this process. He has been teaching Baguazhang and Neijia in Europe for 26 years now, and since three years Luigi Zanini is passing on the knowledge and the experience to my students…
Themes:
Bagua Zou Zhang: walking the Circle. How this simple and very rich tool can literally change our body, mind and essence. Walking is an art in itself and can bring every practice to a higher level.
Bagua Qigong: breathing using specific postures increases flexibility and resilience, adds quality to our daily routines. Especially useful for health and body care.
Bagua and the 8 Extraordinary Vessels: theory and practice of the Micro and Macro Cosmic Breathing applied practically to produce body connection and health.
Authors: Teachers of the Taiji Forum 2017 and Taiji Forum
Images: Teachers of the Taiji Forum 2017 and Taiji Forum