21st International Push Hands Meeting 2022 – Save the date!
We are happy to announce that the 21st International Push Hands Meeting will take place from Wednesday, May 4th to Sunday, May 8th 2022 at the Tai Chi Studio in Hanover, Germany!
As usual, the meeting will be bilingual – English and German – and it will all be about the (second) best partner exercise in the world: Push Hands!
The journey continues…
The 21st Push Hands Meeting will be our first big event after our 20 years jubilee edition in February 2020. After one year of insecurity and many obstacles, we have made the choice to give the meeting in 2021 a miss.
The Taiji community – like many others – has suffered under the restrictions of the pandemic. Whole schools and courses were limited to online only training, not to mention the countless health-related, personal and financial challenges this crisis has entailed for some of us in their professional as well as in their private lifes.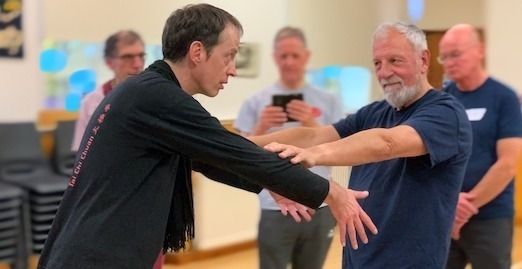 Seeing the progress in tackling the pandemic and social life returning in little steps however, we feel confident again to look back at last year's meeting with many happy and some sad memories – and to develop an outlook into the future.
Return to Spring 🌸
Monitoring the pandemic development, we are now positive about being able to organize a meeting in Spring 2022 led by the known cordial atmosphere of exchange and respect that we all love.
The date in May – at a later time than in the last years – was chosen to allow time for personal orientation, for the flights to get back on track and the vaccination levels up for the convenience and security of our international guests and those close to home. – This return to spring will also give us and our regulars enough time to resume our partner training. And it gives Push Hands newbies the chance to take a deep breath before jumping into something new. As always, new beginners are especially invited to join us!
On the schedule: Touch – feel – communicate
For now, we plan to stick to our revised programme: one dedicated workshop for new beginners in the morning along with special offers open to all levels combined with free pushing hands in the afternoon where we can mix as we feel like. We are also prepared to adapt to the circumstances and will come up with flexible solutions concerning testing, outdoor-sessions and fixed smaller groups if it should prove to be necessary.
You are cordially invited to join us for 5 days of wordless fun, invisible exchange and outrageous excitement!
Your Push Hands Team
Nils, Birgit and Gabi
— We will post the teacher line-up along with their themes, the framework programme and the registration details at the end of year.
The easiest way to keep up to date is to subscribe to our newsletter – or to follow us on Facebook and/or Insta.
Either way: We are looking forward to seeing you on May, 4th! – We are sure that the force will be with us… 😉