At the 22nd International Push Hands Meeting, Massimiliano will be teaching a series of workshops under the umbrella theme:
"Tui Shou: Basic and advanced instructions and techniques".
Tai Chi Studies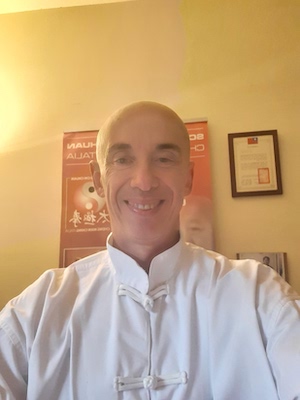 Massimiliano Biondi is one of today's leading experts of the Cheng Man Ching style of Tai Chi Chuan in Europe. He has been studying and practicing Tai Chi Chuan continuously since 1995, and since 1999 he has been teaching it, after being introduced to the Cheng Man Ching style by Master Tiziano Grandi.
Massimiliano is a student of Grand Master Chu Hong Ping and Master Wang Chi Shih from Taiwan. With the latter, he was able to study all the fundamentals of the Cheng Man Ching style of Tai Chi Chuan, with the addition the traditional two person form of Yang style San Shou. Massimiliano also studied with Master Ken Van Sickle from New York as regards the study and practice of the Tai Chi sword.
Over the years, Massimiliano has increasingly specialized in the various aspects of the art, meeting, studying and comparing himself with other important Tai Chi Chuan masters internationally renowned: Chen Hsiu Yao (Rosa Chen), William Nelson, Hsu Yee Chung, Benjamin Lo, Gianfranco Pace, Lau K. King, Lin Mu Huo, William C. C. Chen, Mario Napoli and other great experts like Luis Molera, Lenzie William, Nils Klug, Shen Yan Sheng and Zhuang Kaijun.
Among these, very important in his training were the teachings of Master Chen Hsiu Yao (Rosa Chen) for Qi Gong and Master William Nelson for Tui Shou and the fast form of the Yang style (Kuai Tai Chi). The study experiences with the Masters Gianfranco Pace and Mario Napoli were particularly illuminating, too.
Head Master of Tai Chi Chuan style Cheng Man Ching recognized by the Chinese Martial Arts Sector MSP Italy and the PWKA Cultural Sports Federation, Maestro Biondi puts PRACTICE in all its forms and facets.
Teaching
Massimiliano is an advocate of a continuous practice that can also become very intense – and which must always be training and conditioning – as well as of the study of the subtle aspects of Tai Chi Chuan as the main means of growth.
His lessons are very engaging, varied and rich in content, designed to make students do quality work that leads to ever higher levels. Over the years, Massimiliano has organized and participated in numerous events including seminars, conferences, meetings and rallies, traveling in Italy and abroad.
More on the Push Hands Meeting: