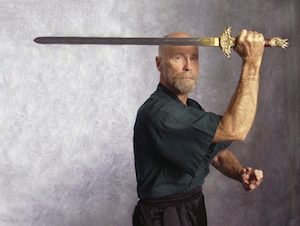 Ken Van Sickle, a native of New York City, is best known for his work in recording images of film and video of Cheng Man Ching, who he was a student of Cheng Man Ching from some years. However is sword skills are exceptional and he has produced an excellent DVD and is currently working on a book on the subject. We are working on an article series about Prof. Cheng Man Ching right now. This will include an in depths video interview with Ken van Sickle as well. See the links below this article as well.
In this 5-part interview series, Ken van Sickle, photographer, Tai Chi Master and student of Cheng Man Ching in New York, talks about studying with Cheng Man Ching and his desire to capture Cheng Man Ching's spirit of learning and developing in the movie "The Professor – Tai Chi's Journey West". Further points are the sense and non-sense of lineages, the crucial question of "what to get from a master?", Tai Chi goals and finally the meaning of Tai Chi weapon training, especially concerning the sword as instrument of the Dao…
The interview was conducted in the context of his Tai Chi sword and fencing seminar in Hanover, Germany in summer 2017.
Here you will find part 2, 3, 4 and 5 of this in depth interview:
Cheng Man Ching, student of Yang Chengfu, came to New York in the 60s, at first teaching Taijiquan in the Chinese community, later also teaching Westerners. Being a university professor from an educated family and deeply rooted in traditional Chinese culture, he was confronted with flower children searching for a guru. Cheng Man Ching made a big impression on their lives, as described in Wolfe Lowenthal's "There Are No Secrets" (1991) and in the film "The Professor – Tai Chi's Journey West" (2016).
The discussion about the nature of the Dantian is old and it remains unresolved until today: Is the Dantian a bodily, material reality or an ideal concept of Traditional Chinese Medicine to explain certain psychosomatic correlations? The debate cannot simply be described as a conflict between East and West or between Tradition and Modernity. In the West, the positions differ widely: The position of Western idealism, informed by the philosophy of Enlightenment, would portray the Dantian as a (mere) concept, a kind of theory game of the mind, while Western esotericism avidly visualizes the "cauldron" in which the essences are boiled, thinking of it as providing access to sources of power which can be wielded by initiated masters to heal or to destruct…
On meditationOur idea of meditation is mainly influenced by two aspects, the visual and the practical aspect. The mind's uniform picture of a meditating person is someone sitting still in a peaceful environment, in a monastery or on a mountain. Concerning the practical aspect of meditation, the ideas vary. The meditation trainers primarily concerned with furthering the well-being of their students tend to advise to focus on something positive, uplifting – be it a special colour (gold, red) or the visualization of a positive image – while the "purists", who aim at purifying the spirit, try to empty the mind completely, focusing on the process of breathing or on anything at all, some advocating the use of mantras as a guide into emptiness. Behind this, different traditions of meditation can be seen…
Cheng Man Ching's teaching was marked by underlining sameness and diversity at the expense of hierarchy and difference. This approach formed the basis of his unique way of bridging the cultural gap between East and West…
Ken van Sickle interview on his last workshops in Europe
This interview was filmed in Ken's house May 2019 just a few days before his last Europe workshop tour.
Kenneth Van Sickle's sword book
Soon we will publish Ken's sword book on taiji-forum.com and our German sister site!
"Kenneth Van Sickle has made a significant contribution to the work of Tai Chi Chuan through his practical teachings, his photographic and film work, and through the quiet, understated manner with which he dispenses deeply profound insights on the application of Tai Chi Chuan as a tool for personal cultivation.
Much has been written on the practical, theoretical and historical aspects of Tai Chi Chuan but until now little has been produced looking specifically at Tai Chi weapons. Of all the weaponry in the Tai Chi arsenal the sword is widely considered to be both the subtlest and the most sophisticated, requiring a thorough understanding of the higher Tai Chi principles such as 'listening', focus and fluidity.
Kenneth Van Sickle leads the reader through the various attributes of this, the most gentlemanly of weapons, with the eye of an artist and the soul of a poet."
Youtube playlist "Ken van Sickle"
Youtube playlist "Prof. Cheng Man Ching"
Author: Taiji Forum
Ken van Sickle is based in New York and teaches in the USA and Europe.
Images: Ken van Sickle