A general way of measuring sword length is with the pommel on the floor, the point reaching near but not higher than your navel. However since the length of the blade is the most important element, and handles can vary from 5 to 10 inches long, a more accurate measure can be taken.
While in the opening position (the sword in your left hand, point up), the point should come to your earlobe. It can be a little shorter but if higher it may prove to be unwieldy.
Swords, wood or metal, should weigh between 1 and 3 pounds.
The blade should be balanced anywhere from 2 to 6 inches in front of the guard. If it is balanced close to, or at the guard, the sword will 'wield' easily but will be too easy to manipulate by using wrist strength (as in western fencing). If it is balanced too far toward the point the sword will be blade – heavy and consequently cumbersome.
A blade-heavy sword will cut well but thrust with difficulty. A blade-light sword will thrust well but not cut well.
If the blade does not get lighter toward the point it may feel point-heavy, even if it is properly balanced.
The guard may face forward (post Ming) or back toward the pommel (pre Ming). This is not important now but in actual combat the forward guard can be taken advantage of.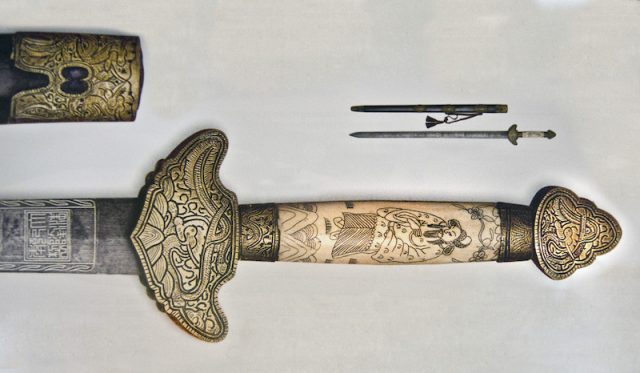 These measurements apply to both wood and metal swords. It is okay to start off with a light sword while learning the form, and it is good to do form with a heavy sword occasionally, as they can only be moved effortlessly if moved according to the principles.
Author and Images: Ken van Sickle
German version on our sister site!