FORMS
Solo and Sword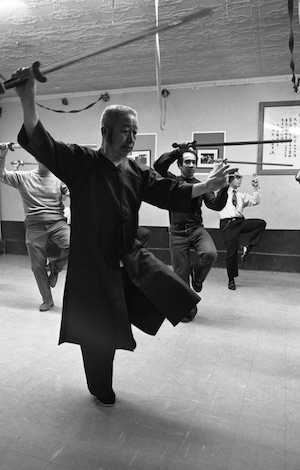 In their wisdom the ancient masters evolved the forms and passed them down. The forms are of a nature that when they are practised they inform us as to their martial and therapeutic content, while practising with the therapeutic energy in mind the healing energy is freed.
Names of CHENG MAN CH'ING'S TAI CHI SWORD
RESPECTFULLY DECLINING
STEP FORWARD, HAND AND SWORD
THE IMMORTAL POINTS THE WAY
PRESS THE APPLE
RINGS AROUND THE MOON II
MAJOR LITERARY STAR
SWALLOW BEATS WATER WITH WINGS III
BLOCK AND SWEEP, RIGHT AND LEFT II
MINOR LITERARY STAR
WASP ENTERS CAVE
ALERT CAT CATCHES MOUSE
DRAGONFLY STRIKES WATER
MASTER SITS BACK
SWALLOW RETURNS TO NEST
PHOENIX SPREADS WINGS
WHIRLING WIND, MINOR LITERARY STAR
AWAITING THE FISH
SEARCHING FOR SNAKE IN GRASS III
EMBRACING MOON
BIRDS RETURN TO FOREST
DRAGON WAGS TAIL
WIND ROLLS LOTUS LEAF
LION SHAKES HEAD
TIGER HOLDS BREATH
WILD HORSE LEAPS STREAM
TURN, REIN IN HORSE
THE COMPASS
TASSELS IN THE WIND III
PUSH BOAT WITH CURRENT
SHOOTING STAR CHASES MOON
PEGASUS, THE WATERFALL
ROLL UP SCREEN
WHEELS LEFT AND RIGHT II
SWALLOW STRIKES MUD
ROC SPREADS WINGS
PLUCK MOON FROM SEA BOTTOM
EMBRACE MOON
DRAGON SPIRIT SEARCHES SEA
RHINO GAZES AT MOON
SHOOT WILD GOOSE
GREEN DRAGON STRETCHES CLAWS
PHOENIX SPREADS WINGS
BLOCK TWO SIDES II
STRIKE WILD GOOSE
APE OFFERS FRUIT
FALLING FLOWERS, LEFT AND RIGHT VI
FAIR LADY WORKS SHUTTLE
TIGER WAGS TAIL
FISH LEAPS DRAGON GATE
DRAGON COILS AROUND PILLAR II
THE IMMORTAL POINTS THE WAY
WIND SWEEPS FALLEN FLOWER
HOLD TABLET BEFORE BOSOM
EMBRACE SWORD, RETURN TO ONE
Free PDF "Names of CHENG MAN CH'ING'S TAI CHI SWORD"
Author and Images: Ken van Sickle
German version on our sister site!